Last year a friend had the hard job of moving her mom to a long-term care  facility and her father to a small apartment. Two  homes to scale down a life-time of items. Her mom kept newspaper clippers of anything she thought her children would be interested in. So it was a walk down memory lane and in some cases great keepsakes.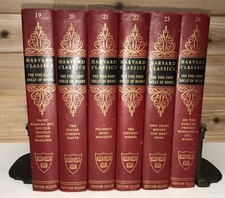 One item my friend came across that no one else wanted was the Harvard Classics.  They look like old  encyclopedias. Rows of hardcover books lining your bookcase.
The beginning the Harvard Classics was Dr. Eliot, then President of Harvard University, had stated in speeches that the elements of a liberal education could be obtained by spending 15 minutes a day reading from a collection of books that could fit on a five-foot shelf.
Dr. Eliot then went on to gather the collection and publish the works in 51 volumes. That would of course sit on a five-foot shelf.  This is just a taste of what is included in the 51 volumes:  Autobiography of Benjamin Franklin, Plato, Francis Bacon, Wealth of Nations, Origin of Species, Don Quixote and The Odyssey.  I stopped scanning at volume 12 so….
My friend and I are reading the Harvard Classics this year.  They are now in her living room in a small bookcase.  I have already read authors I have only heard about.  Some readings are easier than others. A few I have read a sentence twice to grasp. But this is all about getting my "liberal education".
For more information check out the Harvard_Classics.  I was surprised at how many results came up.  This will also show exactly who and what are in each volume.  When I think about it is amazing to have all this knowledge at your finger tips.
So the Harvard Classics is part of my reading for this year. Check it out as it was a surprise to me.
You can always start now!